Nov 2009 Workshops at Pervasive '10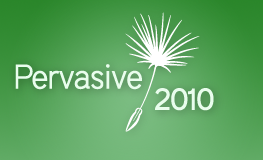 Pervasive 2010 is the eighth International Conference on Pervasive Computing from 17-20 May 2010 in Helsinki, Finland. The workshop program will be held on May 17th 2010. For 2010 our program is quite different than in the past years. We have four invited workshops from leading international research groups on targeted research topics, along with three workshops accepted in the first phase call and five accepted in the second phase call.
Workshops proposals have been reviewed by leading international experts in Pervasive Computing to access the quality of the proposals. As workshop chairs we carefully considered their reviews along with considering the relevance of the topic to Pervasive, potential interest, as well as the format, scope and overlap of workshops.
Thanks to all those who submitted workshop proposals and to our international reviewers. Special thanks to my workshop co-chair Petteri Nurmi for putting up with my international travel schedule while trying to arrange this program. My best wishes to Antonio and Mirjana on the main conference program for which the papers are under active review now.
A number of very interesting workshops will be at the conference next year.
Workshops Website
w1 Energy Awareness and Conservation through Pervasive Applications

w2 Multimodal Location Based Techniques for Extreme Navigation

w3 Pervasive Personalization

w4 Ubiquitous Virtual Reality

w5 Security and Privacy in Spontaneous Interaction and Mobile Phone Use

w6 Pervasive Advertising and Shopping

w7 What can the Internet of Things do for the citizen (CIoT)

w8 Designing for Crowds

w9 How to do good activity recognition research? Experimental methodologies, evaluation metrics, and reproducibility issues?

w10 UBIPROJECTION 2010: Workshop on Personal Projection

w11 Ubicomp in the Large: Collaborative Sensing and Collective Phenomena

w12 First International Workshop on Programming Models for Mobile and Pervasive Systems (PMMPS)